Meet our second-year creative writing cohort. 
Sarah Browning is the author of Killing Summer (Sibling Rivalry Press, 2017) and Whiskey in the Garden of Eden (The Word Works, 2007). She is co-founder and for 10 years was Executive Director of Split This Rock: Poems of Provocation & Witness. She is an Associate Fellow of the Institute for Policy Studies and recipient of the Lillian E. Smith Writer-in-Service Award as well as of fellowships from the DC Commission on the Arts & Humanities, Mesa Refuge, and the Virginia Center for the Creative Arts. She has been guest editor or co-edited special issues of Beltway Poetry Quarterly, The Delaware Poetry Review, and three issues of POETRY magazine. From 2006 to 2019 Browning co-hosted the Sunday Kind of Love poetry series at Busboys and Poets in Washington, DC. 
Annabel Lang is a writer and performer from South Carolina. She's lived in Chicago for the past five years, the city where she co-founded two community workshops and one gay basketball team. Her essays have appeared in Cosmonauts Avenue, American Chordata, Proximity Magazine, and elsewhere. As a performer, she has been featured around Chicago, most notably at the Neo-Futurist Theater. 
Jean Racines is a Latin American fiction writer born and raised in Quito, Ecuador. After growing up surrounded by books, videogames, and the increasing pervasiveness of the public internet, he developed a terminal affinity for both technology and storytelling. Over the years, he's been an editor, a translator, a producer, and a teacher. He has a BA in Liberal Arts from Universidad San Francisco de Quito and an MA in Media Studies from Maastricht University.
Taylor Alyson Lewis was raised in Atlanta, Georgia. She earned her B.A. in English at Spelman College, where she won the 2017 Edith A. Hambie Poetry Prize. She currently serves as poetry editor at Auburn Avenue. Her work can be found in The Tenderness Project, Auburn Avenue, and Spelman College's Aunt Chloe. In addition to being a poetry editor, she's worked as a legal assistant, a nanny, and most recently, as a catering and shift lead for an ice cream shop.
Daniel Kessel is a native New Jerseyan: born and bred, left and now returned. He has a BA in Comparative Literature from New York University, the city in which he has lived for the past 11 years. He has worked as an editor, tutor, driver, manny, ghostwriter, and once—for a fistful of singles—an amateur drag queen in West Hollywood. He is by origin a poet and now (also) writes prose.
Meridith Cary is a nonfiction writer from Southern California. They earned their Bachelor of Arts in Creative Writing and Studio Art from Pepperdine University in 2016. In addition to their writing practice, Meridith creates large-scale nude oil paintings. Both their essays and their art center thematically around the roles of shame, mental health, and community in everyday life. When Meridith isn't writing or painting, you can generally find them trolling Wikipedia, planning their next hairstyle, or memorizing another hundred digits of pi.
Mary Sico was born and raised in western Pennsylvania. Between stints of traveling the US in her van and on foot, she studied English writing at the University of Pittsburgh, where she was awarded the Monty Culver Prize for Undergraduate Fiction. Her fiction and creative non-fiction have been featured on WESA's Prosody: Pittsburgh Radio for Contemporary Literature and in The Fourth River. For the last four years, she has been living, teaching, and writing in Colombia.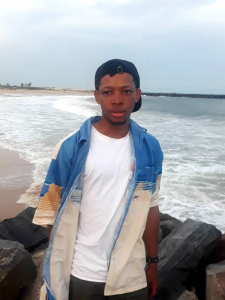 Oluwabambi Ige is a writer and engineer from Lagos, Nigeria. He won the 2017 Winter Tangerine award for prose, and is an alumnus of the Farafina Trust Creative Writing workshop.