Pulitzer Prize Winning Author Greg Pardlo at Summer Writers' Conference

Greg Pardlo's Digest has been awarded the 2015 Pulitzer Prize for poetry. Pardlo will give a reading this summer, on Monday, June 29, at the Rutgers-Camden Summer Writers' Conference. The reading, which is free and open to the public, will be from 1:00-2:00pm in the Stedman Gallery in the Fine Arts Building.
MFA Faculty and Students in Asia
In June, MFA students and faculty participated in an exchange program with Arizona State University that brought them to Singapore and Thailand.  ASU students will attend our
30th annual Summer Writers' Conference
.
Pictured left, poet Timothy Lynch helps an elephant stay cool at the Elephant Nature Park in Chiang Mai.
MFA Faculty, Students & Alum at 2015 AWP Conference
Visit us at the Association of Writers & Writing Program's Annual Conference & Bookfair in Minneapolis April 8-11. We'll be at booth 1419 in the bookfair and can be found at the following events:
A Thread Through the Labyrinth: Learning & Teaching Plot
Thursday, April 9, 12:00pm-1:15pm, Rm 208 A & B, Level 2
Faculty Lauren Grodstein & Alum Daniel Wallace
Persea Books 40th Anniversary Reading
Thursday, April 9, 12:00pm-1:15pm, Rm 101 B & C, Level 1
Faculty Patrick Rosal

Practical Approaches to Teaching Creative Writing in Urban Public Schools: What Works?

Thursday, April 9
, 3:00pm-4:15pm, Rm 208 C&D, Level 2
Students Mary Anna Evans, Tim Lynch, John Henry Scott, Christopher Cervelloni, & Gerard Breitenbeck
Eight at Seven: A Live Performance, Book Launch & Party
Thursday, April 9, 7:00pm, Off-Site at Honey, 205 E Hennepin Ave
Faculty Patrick Rosal
Preparing Students of Color for the MFA: Advice, Reflections, & Methodologies
Friday, April 10, 9:00am-10:15am, Auditorium, Room 3, Level 1
Faculty Patrick Rosal

MFA? Check. Now, How Do I Keep Writing? Practical Information for Post-MFA Writing LifeFr  
Friday, April 10, 3:00pm-4:15pm, Rm L 100 B & C, Lower Level
Faculty Paul Lisicky & Student Melanie McNair
Vermont Studio Center Reading
Friday, April 10, 6:00pm-8:00pm, Off-Site at Acadia on Cedar Street
Faculty Patrick Rosal
StoryQuarterly's 40th Anniversary Celebration
Saturday, April 11, 10:30am-11:45am, Rm M 100 D & E, Mezzanine Level 
Student Melanie McNair and readers Rae Bryant, T Geronimo Johnson, Chinelo Okparanta, Peter Trachtenberg
Between Oblivion and the Blockbuster What's a Literary Novel to Do?
Saturday, April 11, 1:30pm-2:45pm, Rm M 100 D & E, Mezzanine Level 
Faculty Lauren Grodstein  
StoryQuarterly's 2014 Fiction & Essay Contest Winners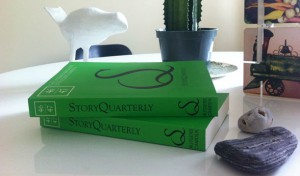 Fiction Winners
First place ($1000) Anne Ray of Brooklyn, New York, for her story "The Pool"
First runner-up ($500) Rebecca Johns of Marquette, Michigan, for "This is Why We Can't Have Nice Things"
Second runner-up ($250) Baird Harper of Oak Park, Illinois, for "Good Time"
Elizabeth McCracken–the author of Thunderstruck, An Exact Replica of a Figment of My Imagination, Niagara Falls All Over Again, The Giant's House, and Here's Your Hat What's Your Hurry–was this fiction year's contest judge.
Essay Winners
First place ($1000) Elizabeth Hoover of Harrisonburg, Virginia, for her essay "Smudge" 
First runner up Melissa Febos of Brooklyn, New York, for "The Book of Hours"
Second runner up ($250) Brad Aaron Modlin of Columbus, Ohio, for "Thomas"
Maggie Nelson–the author of Bluets; The Art of Cruelty: A Reckoning; Women, the New York School, and Other True Abstractions; The Red Parts: A Memoir; as well as four books of poetry–was this year's essay contest judge.
Karen Russell Returns to Rutgers University-Camden
The MFA at Rutgers University-Camden is delighted to announce the return of Visiting Writer Karen Russell, who will join students for a lecture and discussion on Friday, 
March 6
.
Karen Russell
is the Pulitzer Prize-nominated author of
Swamplandia, Vampires in the Lemon Grove,
and
St. Lucy's Home for Girls Raised by Wolves
.  She is the recipient of a MacArthur Fellowship, the New York Public Library Young Lion's Fiction Award, and the Bard Fiction Prize, among other honors.
Emud Mokhberi to Teach Screenwriting Course Spring 2015
Emud Mokhberi is an Academy Award nominated writer and director. He has developed and sold an original feature length concept to Dreamworks Animation and written screenplays and directed visual development for La Petite Reine in Paris, France. He has worked as a technical director and character animator for Digital Domain and Sony Pictures, and presented the making of his award-winning short at festivals, studios and conferences around the world.
Travel Opportunities for MFA Students
Two Rutgers University-Camden students will spend two weeks in Singapore and Thailand this summer, and two students from Arizona State University will attend our 30th Annual Summer Writers' Conference. The new Asia Exchange Program supplements our exciting menu of possibilities to travel for MFA credit. This Spring, students will go to Granada and Madrid with poet Patrick Rosal. Other trips have included Paris, Rome, Amsterdam, and London.
MFA Named an LGBTQ Friendly Graduate Program in Creative Writing
We believe that visibility is the first step to creating a welcoming, friendly environment for LGBTQ students, faculty, staff, and the content of a writer's work at any institution of higher education. This list of programs are LGBTQ-friendly because they feature LGBTQ faculty and/or encourage students to engage with queer or gender/sexuality studies. In many cases, you will also notice the programs advocate or require students to get involved in the local community. Read more….
MFA Reading Series, 2014-2015
The Writers in Camden Series this year promises to be an exciting one, with readings by Elizabeth McCracken, Leslie Jamison, Victor LaValle, Justin Torres and many others.  Check the "Visiting Writers" link for more details. The readings, which are free and open to the public, provide a great opportunity to meet our current MFA students and faculty.
MFA Students Launch New Literary Journal Cooper Street
Greg Sullivan, the current editor of Cooper Street and a fiction writer slated to graduate in January 2015, led the charge in Cooper Street's founding, and quickly found support among his fellow students. 
Though Cooper Street was a new endeavor, Sullivan and his colleagues…read more….
StoryQuarterly Continues Longstanding Tradition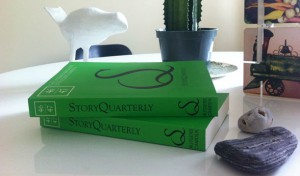 For more than 30 years, StoryQuarterly has served as a staple in the literary community, publishing the works of both established and emerging writers. Since 2009, the esteemed journal has been produced under the auspices of Rutgers University–Camden's master of fine arts program in creative writing.
After a one-year hiatus, StoryQuarterly is now being recast with new features and a re-envisioned focus of its content. 
Karen Russell, Distinguished Guest Teacher, Meets with MFA Students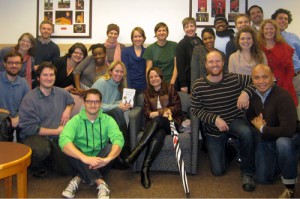 Karen Russell, MacArthur Fellow and Pulitzer Prize-nominated author, delivered monthly lectures this fall to our MFA students on the reading, composition, and revision of fiction as well as the writing life. They were enlightened, inspired and lively gatherings. Many thanks to Karen!
StoryQuarterly Announces 2013 Fiction Contest Winners
First place is awarded to Janet Peery of Norfolk, Virginia for her story "No Boy At All." Peery is the author of Alligator Dance; The River Beyond the World, a finalist for the National Book Award; and What the Thunder Said. She has been the recipient of a Whiting Writers Award and the Rosenthal Award from the American Academy of Arts and Letters.
Second place is awarded to Rumaan Alam of Brooklyn, New York for his story "This is the Year I'm Thankful For" and third place is awarded to Beth Uznis Johnson of Canton, Michigan for her story "Deep Dark Tan."
All three winning stories will appear in StoryQuarterly 46/47 to be published Winter 2014.
Jess Walter, the author of six novels, including the bestsellers Beautiful Ruins and The Financial Lives of the Poets, as well as the recent story collection We Live in Water, was this year's contest judge.
MFA Director Lauren Grodstein Publishes New Novel

The Explanation for Everything, the newest novel from Lauren Grodstein, Graduate Director of the Creative Writing program and Associate Professor of English and Creative Writing, explores the debate between Darwinism and intelligent design through the lens of a college professor and the student he is advising on a research project.
Learn more about The Explanation for Everything at NewsNow.
Read a Q&A with Lauren about her novel.
Distinguished Guest Teacher Karen Russell Awarded "Genius Grant"

For the second time in two years, a Rutgers–Camden educator has been named a MacArthur Fellow. Pulitzer Prize-nominated author Karen Russell has earned the prestigious award, known popularly as the "genius grant."
Learn more about Russell and the MacArthur fellowship.
Karen Russell, the Pulitzer Prize nominated author of Swamplandia, St. Lucy's Home for Girls Raised by Wolves and most recently Vampires in the Lemon Grove, will be joining our faculty as a Distinguished Guest Teacher for the Fall 2013 semester. Russell, one of The New Yorker's Twenty Under Forty, has been nominated for the Orange Prize and named as one of Granta's Best Young American Novelists.  She will be discussing some of her favorite works of fiction with our MFA students in a series of wide-ranging literary discussions.
MFA students and graphic designers work together to create digital literature
Click here to read the article about Rutgers students publishing e-books and other projects digitally.
MFA Reading Series, 2013-2014
The Writers at Camden Series this year promises to be an exciting one, with readings by Rachel Kushner, Chris Ware, Kristen Iversen, Tyehimba Jess and many others.  Check the "Visiting Writers" link for more details. The readings, which are free and open to the public, provide a great opportunity to meet our current MFA students and faculty.
Student Readings
The Rutgers-Camden MFA Student Reading Series is held once per month on Wednesdays at 7pm. Students share their poetry, fiction, non-fiction, and screenplay, then guests are welcome to join the readers at the Victor Pub for food and drinks afterward.
StoryQuarterly 46/47 Double Issue Forthcoming
StoryQuarterly 46/47 will be published in January and features writing by Colm Toibin, Mark Doty, and others, including the winner of the second annual Fiction Contest, judged by Amy Hempel.
Rutgers-Camden at AWP
Rutgers-Camden students and staff will attend the AWP conference in Seattle.  Visit our table to learn more about who we are and what we do. 
MFA Students in Camden Classrooms
A new course called "Teaching Creative Writing to Urban Youth" allows MFA students to get credit for going into elementary and high school classes in Camden. The class is part of Rutgers-Camden's outreach efforts, and will feature guest speakers who are experts in creative writing for youth. The students will also organize a teen creative writing festival featuring workshops, contests, and performance opportunities.
Creative Nonfiction at Rutgers-Camden
Rutgers-Camden offers an unusual array of courses in the genre of creative nonfiction.   Our students can study memoir, literary journalism and the lyrical essay, as well as taking craft courses such as "Truth and Lies: Autobiographical Fiction and Fictional Autobiography."  Visiting writers to campus have included some of the most celebrated writers of the form: Kathryn Harrison, David Shields, Robin Hemley, Peter Trachtenberg, Phillip Lopate and Tobias Wolff, among others.  Our students are beginning to amass publications in this area, in both literary magazines and publications like GQ: see "student publications" for details.