Pulitzer Prize Winner Greg Pardlo at Summer Writers' Conference

Greg Pardlo's Digest has been awarded the 2015 Pulitzer Prize for poetry. Pardlo will give a reading this summer, on Monday, June 29, at the Rutgers-Camden Summer Writers' Conference. The reading, which is free and open to the public, will be from 1:00-2:00pm in the Stedman Gallery in the Fine Arts Building.
Travel Opportunities for MFA Students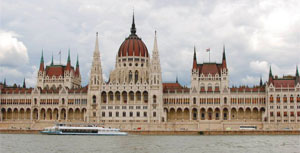 During spring break 2015, MFA students traveled to Granada & Madrid with poet Patrick Rosal. Other course trips have included travel to Paris, Rome, Amsterdam, Prague, & London. Two MFA students, Julie Chintz & Tim Lynch, will spend two weeks in Singapore & Thailand this summer as part of a new Asia Exchange Program.
MFA Student Shelby Vittek Wins Food Writing Awards
Shelby Vittek's "In a Pinch" and "Here Comes the Sunchoke" awarded 1st and 2nd place for Best Student Writing on Food from the Association of Food Journalists. Both pieces were published in Table Matters.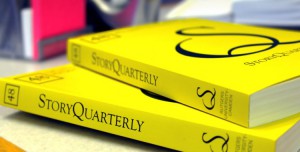 Fiction
First place ($1000) Anne Ray of Brooklyn, NY for "The Pool"
First runner-up ($500) Rebecca Johns of Marquette, MI for "This is Why We Can't Have Nice Things"
Second runner-up ($250) Baird Harper of Oak Park, IL for "Good Time"
Judge: Elizabeth McCracken, Thunderstruck (2015 Story Prize); An Exact Replica of a Figment of My Imagination; Niagara Falls All Over Again; The Giant's House; & Here's Your Hat What's Your Hurry.
Essay
First place ($1000) Elizabeth Hoover of Harrisonburg, VA for "Smudge" 
First runner up Melissa Febos of Brooklyn, NY for "The Book of Hours"
Second runner up ($250) Brad Aaron Modlin of Columbus, OH for "Thomas"
Judge: Maggie Nelson, Bluets; The Art of Cruelty: A Reckoning; Women, the New York School, and Other True Abstractions; The Red Parts: A Memoir; and four books of poetry.
Rutgers Alum Susan Muaddi Darraj Awarded Grace Paley Prize
Susan Muaddi Darraj's new book, A Curious Land: Stories from Home, named winner of AWP's Grace Paley Award for Short Fiction.
Emud Mokhberi to Teach Screenwriting Course
Emud Mokhberi is an Academy Award nominated writer and director. He has developed and sold an original feature length concept to Dreamworks Animation and written screenplays and directed visual development for La Petite Reine in Paris, France. He has worked as a technical director and character animator for Digital Domain and Sony Pictures, and presented the making of his award-winning short at festivals, studios and conferences around the world. He will teach a screenwriting course Spring 2015.
Rutgers Alum Chinelo Okparanta Wins Lambda Literary Award
Chinelo Okparanta's story collection, Happiness, Like Water, named Lesbian Fiction winner for the 26th Annual Lambda Literary Awards.  
MFA Program Named LGBTQ Friendly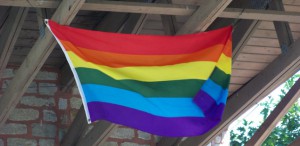 We believe that visibility is the first step to creating a welcoming, friendly environment for LGBTQ students, faculty, staff, and the content of a writer's work at any institution of higher education. This list of programs are LGBTQ-friendly because they feature LGBTQ faculty and/or encourage students to engage with queer or gender/sexuality studies. Read more…
MFA Students Launch Literary Journal  
Greg Sullivan, current editor of Cooper Street and a fiction writer slated to graduate in January 2015, led the charge in Cooper Street's founding, and quickly found support among his fellow students. Though Cooper Street was a new endeavor, Sullivan and his colleagues… read more…
 

Poet & MFA Faculty Patrick Rosal Publishes Some Call It Ballin'
Some Call It Ballin'  is an online magazine that publishes essays on sports. The publication was founded by former athletes and current fanatics. All of us are published writers who value personal memory, public conversation, and the lyric imagination. Read more…
Rutgers Alum Brian Heston Wins Poetry Award
Brian Heston's collection of poetry, If You Find Yourself, named winner of Main Street Rag's Annual Poetry Book Award for 2014. 
MFA Student Draws Inspiration from Proud Chamorro Heritage
As Jacob Camacho recalls, it all started when he got "Goosebumps" – that is, the popular children's horror fiction novels – when he was 7 years old. Growing up in his native Guam, Camacho voraciously read everyGoosebumps book he could find, requiring his mother to keep buying more, along with new shelves to amass his growing collection. Read more…
StoryQuarterly Continues Longstanding Tradition
For more than 30 years, StoryQuarterly has served as a staple in the literary community, publishing the works of both established and emerging writers. Since 2009, the esteemed journal has been produced under the auspices of Rutgers University–Camden's master of fine arts program in creative writing. After a one year hiatus, StoryQuarterly is now being recast with new features and a re-envisioned focus of its content. Read more…
Karen Russell, Distinguished Guest Teacher, Meets with MFA Students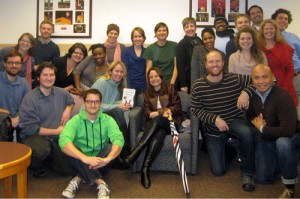 Karen Russell is the Pulitzer Prize-nominated author of Swamplandia, Vampires in the Lemon Grove, and St. Lucy's Home for Girls Raised by Wolves.  She is the recipient of a MacArthur Fellowship, the New York Public Library Young Lion's Fiction Award, and the Bard Fiction Prize, among other honors. Karen shared her experiences and insights with our MFA students on issues of reading, composition, and revision of fiction as well as the writing life. The gatherings were enlightened, inspired and lively.
MFA Director Lauren Grodstein Publishes New Novel
The Explanation for Everything, the newest novel from Lauren Grodstein, Graduate Director of the Creative Writing program and Associate Professor of English and Creative Writing, explores the debate between Darwinism and intelligent design through the lens of a college professor and the student he is advising on a research project. Read more at NewsNow and Religion Dispatches. 
Distinguished Guest Teacher Karen Russell Awarded "Genius Grant"

For the second time in two years, a Rutgers–Camden educator has been named a MacArthur Fellow. Pulitzer Prize-nominated author Karen Russell has earned the prestigious award, known popularly as the "genius grant." Russell is the author of Swamplandia, St. Lucy's Home for Girls Raised by Wolves and Vampires in the Lemon Grove. She will be joining our faculty as a Distinguished Guest Teacher for the Fall 2013 semester. One of The New Yorker's Twenty Under Forty, Russell has been nominated for the Orange Prize and named as one of Granta's Best Young American Novelists.  She will be discussing some of her favorite works of fiction with our MFA students in a series of wide-ranging literary discussions. Learn more about Russell and the MacArthur fellowship. 
MFA Faculty Paul Lisicky's Unbuilt Projects  Selected as Award Finalist
Paul Lisicky'sUnbuilt Projects named Gay Fiction finalist for the 25th Annual Lambda Literary Awards. A prose collection that collects thoughts and undoes them in equal measure. It sidesteps the arc of linear narrative in favor of the reality of how we live, which is in bursts that fuse imagination and reality: a mother loses track of her offspring, a man becomes his beloved dog… Read more…
Graphic Designers & MFA Students Create Digital Literature
A new Rutgers-Camden program that merges disciplines for an innovative academic collaboration has MFA students working with undergraduate graphic designers to publish e-books and other digital projects. Read more…
Lisa Zeidner, MFA Faculty, Publishes New Novel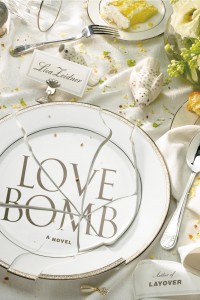 "If Jane Austen had lived to witness 9-11, Lisa Zeidners' witty and terrifying comedy of romantic manners is what she would have written. It's brilliant, funny, and scary." Rafael Yglesias Read more reviews in the New York Times and the Washington Post.
Isaac Blum, MFA Alum, Named Emerging Writer in Residence 
Isaac Blum, whose stories and essays have appeared in the New York Times, the Baltimore Review, theOklahoma Review, and elsewhere, named Emerging Writer in Residence at Penn State.
English Director Tyler Hoffman Publishes New Book
In American Poetry in Performance Hoffman argues that a poetics of 'liveness' has shaped much politically progressive and experimental American poetry from the nineteenth century (Whitman) through the twentieth century (Vachel Lindsay, Harlem Renaissance, Beats, Black Arts and Slam performance poets). A 'public poetics of voice' serves as a… Read more…
Micheal Deagler, MFA Student, Awarded Glimmer Train Award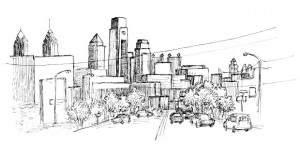 Micheal Deagler's short story, "Etymology," has been selected as the winner ofGlimmer Train's Short Story Award for New Writers.
MFA Faculty J.T. Barbarese Publishes Sweet Spot
Rough and compassionate, devoted to blue-collar scenes and demotic speech, to "oafish fact" and "ugly accuracy," Barbarese nonetheless finds beauty. The confident fourth collection from the New Jersey poet and translator… Read more….
MFA Students in Camden Classrooms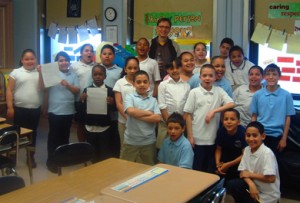 A new course called "Teaching Creative Writing to Urban Youth" allows MFA students to get credit for going into elementary and high school classes in Camden. The class is part of Rutgers-Camden's outreach efforts, and will feature guest speakers who are experts in creative writing for youth. The students will also organize a teen creative writing festival featuring workshops, contests, and performance opportunities.