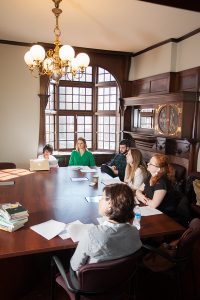 Beginning in Fall 2017, the Rutgers-Camden MFA program will offer full financial support to all admitted full-time students. Made possible by a generous grant from President Robert Barchi's office, the new funds will support up to 11 students each year. Awards will comprise traditional teaching assistantships as well as new, interdisciplinary fellowships. 
In light of this news, the deadline to apply for Fall 2017 has been extended to January 27, 2017. Students may indicate in their personal statements their interest in the new interdisciplinary opportunities. 
MFA Director Lauren Grodstein says: "Full funding is a game changer for the MFA program. With Pulitzer and Guggenheim-award winning faculty, a beautiful home in the historic Writers House, and an NEA-sponsored reading series, the MFA program has all the pieces in place to become one of the top MFA programs in the nation. I am beyond thrilled that, by providing us this crucial funding, President Barchi has recognized our potential and allowed us to offer full support to our incredible students."
Please contact mfa@camden.rutgers.edu with questions.