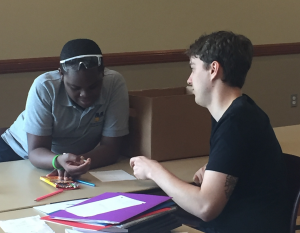 The Rutgers–Camden Writers House is pleased to announce two paid teaching artist opportunities with Growing Great Writers for academic year 2021-22. These positions are made possible by a generous gift from Holman Community Grants. 
Growing Great Writers is an out-of-school-time creative writing program conducted in partnership with Camden schools and community centers. Teaching artists lead creative writing "club" time with students in grades 4-8 once per week during the academic year. Read more about the program here. 
We invite any prospective or current MFA students to apply for this opportunity. If you plan to apply for Fall 2021 matriculation, please note your interest in the program in your personal statement. If you are a current student, please visit the link above for application instructions.